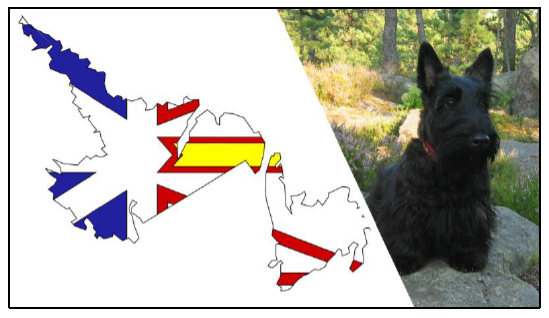 The 2020 Canadian Scottish Terrier Club National will be held in St. John's Newfoundland on July 5, 2020 with the Newfoundland (All-Breed) Kennel Club event.
If you have never been to this province before, this is your opportunity to visit, enjoy the scenery and indulge your passion of exhibiting your Scotties. Those who travel by car or motorhome will need to book the ferry from North Sydney, Nova Scotia to either Port Aux Basques or Argentia. The former trip takes about 4.5 hours followed by a 900 KM drive to St. John's best broken up by overnighting in Grand Falls or Gander if you take the night boat or Corner Brook or Deer Lake if you take the daytime boat.
The latter trip to Argentia involves an 18 hour ferry ride arriving in the morning followed by about a 90 minute drive to St. John's.
If you want to at least cross the island once, then you should book coming and going by the alternate routes.
For those of you who plan to fly and rent a vehicle while here, book your rental very early as demand is very high in July. An effort is being make to see if we can secure a special rate for people who fly from Toronto direct on the only or last leg of their flight. More on that if something can be arranged. Note that the Toronto to St. John's direct flight takes just under 3 hours. The oil boom in this province has resulted in a great expansion of hotel space and we will let you know which hotels are Scottie friendly.
We look forward to welcoming one and all to this beautiful and rugged province. As the fishers of years ago would say to wish you well – "long may your big jib draw".
The following information is subject to change as the details of the venue have not yet been confirmed however, all previous recent years' events have been held at this venue:
Venue Location: St. John's Recreation Center 129 Buckmaster's Circle, St. John's, NL
DOG FRIENDLY HOTELS IN ST. JOHN'S:
Quality Hotel 2 Hill O'Chips 709-754-7788 Hillview Terrace 4A, 3 Wadland Crescent #202 1-888-754-9822
Sheraton Hotel 115 Cavendish Square 709-726-4980
Delta St. John's 120 New Gower Street 709-739-6404
Super 8 175 Higgins Line 1-866-670-7666
Capital Hotel 208 Kenmount Road 709-738-4480
Holiday Inn 180 Portugal Cove Road 709-722-0506
Comfort Airport Inn 106 Airport Road 709-700-5070

Additional info on the 2020 Scottie National event will be updated here.
Steve Andrews, Atlantic Director
Hits: 87